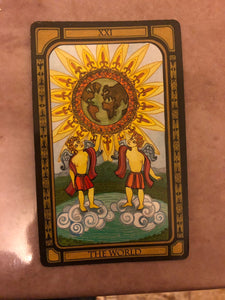 Are you wondering about a specific issue? Do you need to know about a specific project or plan? Are you wondering about an issue with a friend or lover? This reading will tell you what you need to know. This is commonly used for things like "how will my job interview go this week?" "Will i get pregnant this year?" "Will my boyfriend and I make up from our fight?" "Will I buy a house?" These are just examples to show you what kind of specific questions people ask. But you can ask anything.
Please do not use this reading to get a full picture of the next year of your life. That's a much more inclusive service.
This is a card reading. Not a medium service.
You will receive One reading delivered via email within 1-3 days of purchase regarding your question. (I always aim for this but during high order volumes this can take up to 5 days) Upon placing your order please message me your name, age, and a photo of yourself if possible. Photos allow for a stronger personal connection.
If you are ordering a relationship reading for you and your partner a photo of them is also helpful. ****Do not forget to list your question****